Elevate your home or apartment's look by introducing bright and bold Mexican design in form of decorative high relief tiles, Mexican Talavera tiles, or hand-painted tile murals. Just have a look at some decor ideas that include Mexican tile designs that become very trendy in the USA and Canada in recent years. They are alluring, colorful, fun, and elegant at the same time. Adding Mexican Talavera products mean great impact with little work and a very reasonable budget. If you love Southern vibes, French Provence, or Moroccan Arabesque decor, you will find amazing gems among our extended collection of high-relief tiles made with the highest quality Mexican tiles and handmade by local ceramic artists.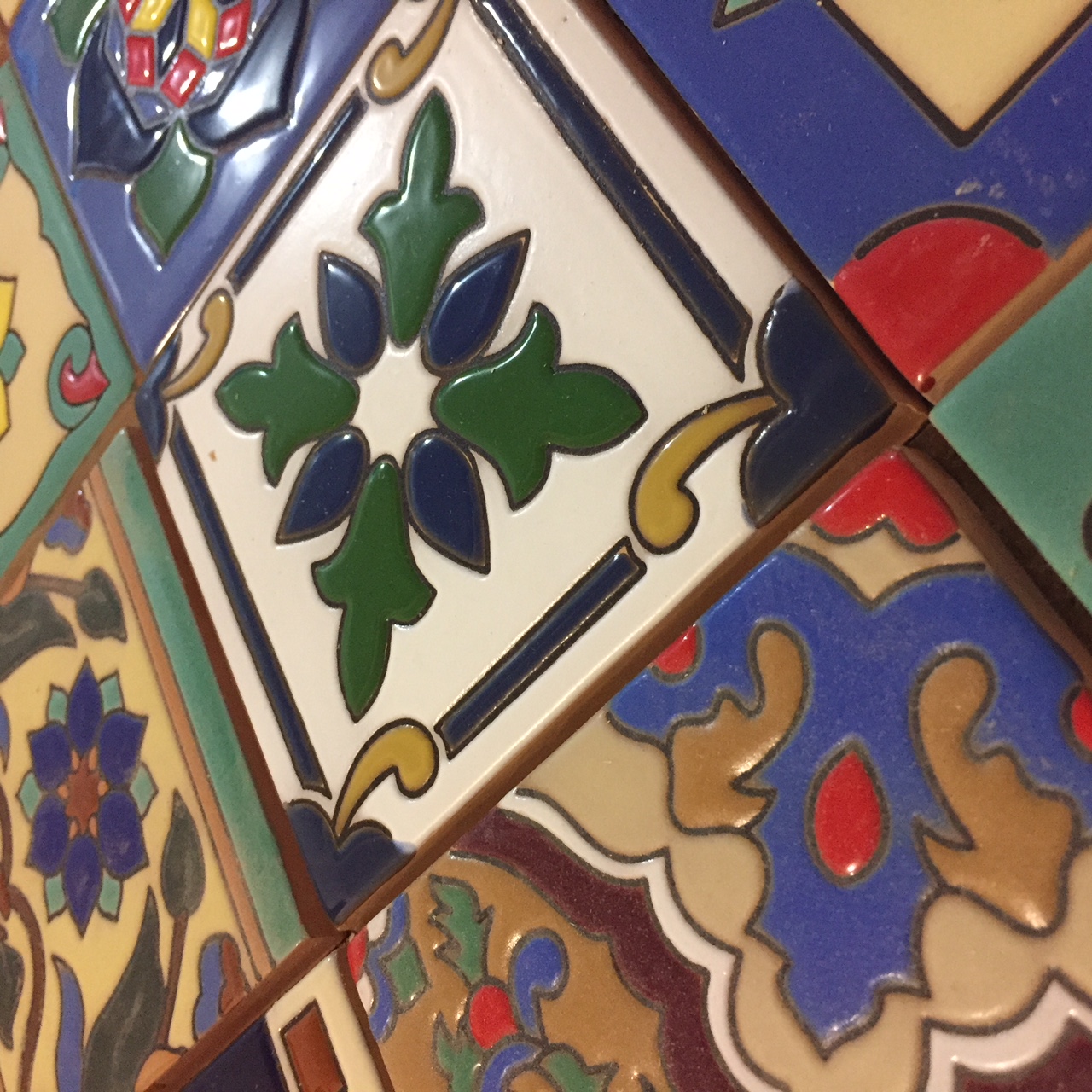 The raised pattern enhances the charming appearance of ceramic tile. All of our tiles are made of Mexican high relief tiles and each item is made by an experienced artisan. Therefore, you can expect remarkable quality and unique designs that include traditional Talavera patterns, geometrical mosaics inspired by Moorish culture, and many figural objects introduced from modern and pre-Colombian civilizations of Mexico. As you can see our collection of decorative high relief tiles is exceptionally extensive and each customer will be able to find a suitable design for his or her decorating project in any style you can imagine. We should take into account that such a special product as a high-relief tile with a surface that is not flat cannot be installed in all areas. Those ceramic, hand-crafted tiles are designed to highlight and accent stair risers, backsplashes, and walls. Their production is time-consuming and more expensive than normal Mexican Talavera tiles but the effect is a durable, high-quality material that can embellish your interiors as well as exteriors. They will not be the best option for floor tiling as for high-traffic areas you want to look for something with an even surface. However, it is a luxurious option for your home décor. Using special glaze that leaves a high-gloss and distinctive raised or "relief" finish makes our decorative high relief tiles a striking accent in any space, in both: private residences and commercial spaces such as lush hotel lobbies or restaurants dining areas. Finish your Mexican look by adding other ceramic products such as Talavera sinks, ceramic decorative plates, or tabletops made of broken Talavera tiles.
A relief tile adds a welcoming and warm feel to your lobby and star raisers. Being a multidimensional piece of ceramic, Mexican relief tiles will create a powerful impact and draw attention to the area once installed. Therefore the high-raised tiles should be considered for all projects that include accenting or adding compelling contrast. The kitchen backsplash is definitely a great spot to choose our relief tiles. As for the stair risers, there are so many ways you can decorate them with our relief tiles. Firstly, you can put the same design for all the rows. Secondly, you can create a bolder statement by adding a different pattern on every row of your risers or create some sort of visual structure like chess. Combine relief tiles with plain but not less striking Mexican floor and wall tiles.