In this post, we will be looking at some classic Spanish designs in Talavera tiles. Talavera tiles are a traditional Mexican art form with origin in Spain. These colorful, ceramic tiles were originally produced for covering the floors and walls of buildings, but they are now also used for other purposes such as decoration and art. Hand-painted Talavera tiles can be used as a part of the overall design scheme of your kitchen, such as for backsplashes, countertops, and floors. Consider using our Talavera tiles to create a traditional Mexican-style patio or add them to a minimalist design for added interest. Our decorative traditional Talavera patterned tiles are handmade, hand-painted, rustic tiles carefully created by families of artisans in Mexico.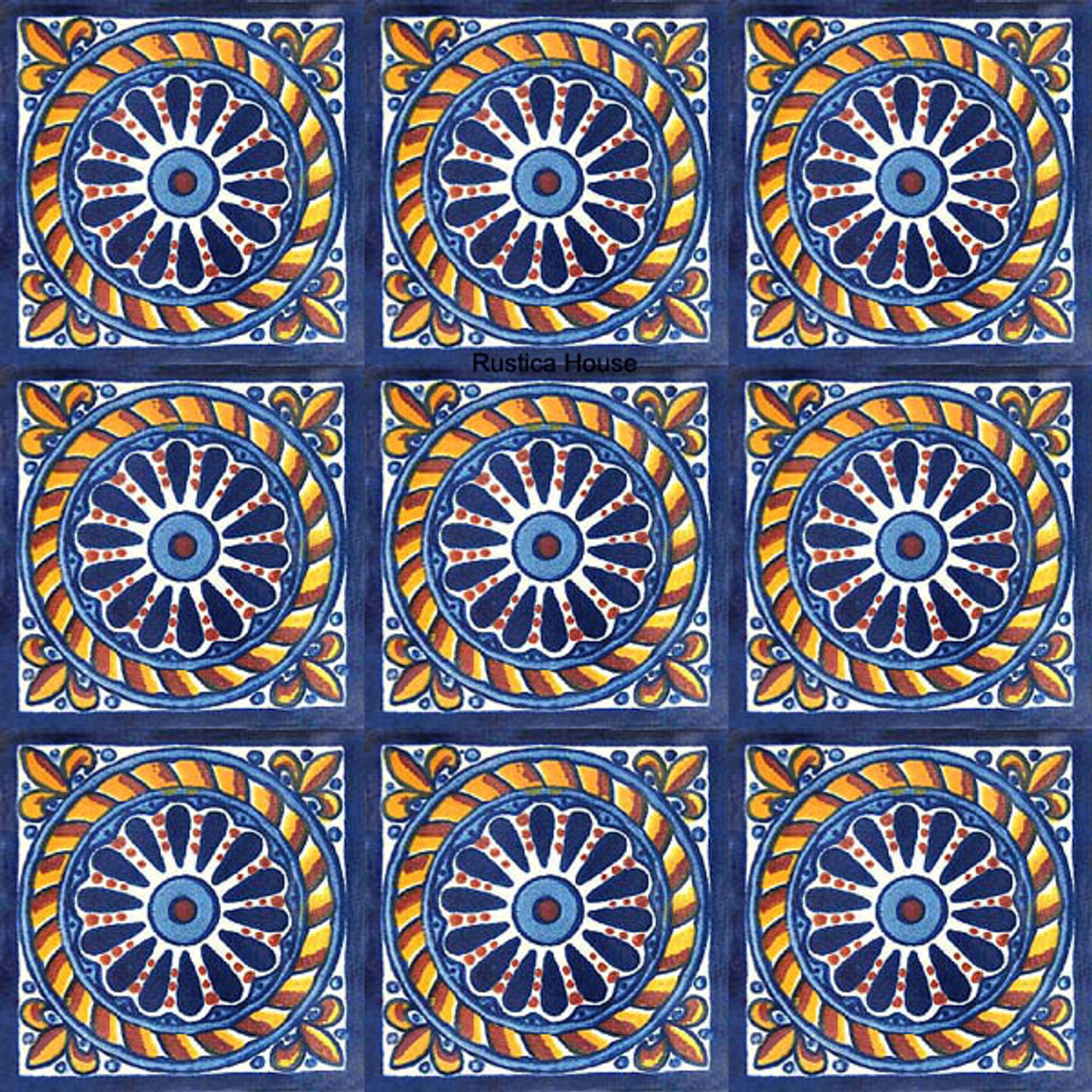 As with all our hand-made Mexican tiles, these rustic tiles have variations in consistency, size, and color. Blending characteristics from Islamic art, Spanish traditions, and resources originating from Central Mexico, Talavera tiles are one of our most exciting offerings. Afterward, the Spanish manufacturing techniques evolved to incorporate the Mexican's abundant designs as well as Spanish-style tiles and Talavera bath basins. Hand-painted designs on genuine Talavera look vague, as the paint is bonded to the glazing slightly, and the glazing covers only the decorative surface of the tile, exposing the terracotta underneath. The classic Spanish designs in Talavera tiles were first introduced to Europe by the Moors during the 8th century. They were used for decoration on floors and walls, as well as for making pottery and other household items. The first Talavera tiles were produced in Puebla, Mexico by a family of craftsmen in the 17th century. Indigenous ceramicists integrated their pre-Hispanic techniques and designs into the already multicultural art form, creating a new tradition that came to be known as Talavera Poblana, to differentiate it from the Spanish Talavera ceramics. The production of these tiles is still an art that is passed down from generation to generation.
These tiles are made from clay, which is then fired at high temperatures and hand-painted with intricate designs. Our Talavera tiles from Mexico come in many different shapes and sizes and are made with either blue and white or a deep cobalt blue. They have been used to create intricate designs on the interiors of homes as well as churches, schools, hospitals, etc. The designs have changed over time, but the blue and white color scheme have remained popular because of its association with purity and good luck. Here, tradition and technique in hand-forming these tiles define Talavera. Today, our customers have a choice from a wide range of designs, so any kitchen remodeling project can find the right Talavera floor and wall tiles, traditional or contemporary. We also offer kitchen tile murals, trim tiles as well as high relief tiles.