Mexican Talavera tiles have been a staple of Mexican architecture and design for centuries. We all associate this country with amazing food and even more incredible, varicolored art and design that is reproduced all over the world. With their vibrant colors, intricate patterns, and hand-crafted beauty, these tiles have become synonymous with Mexican folk art. In this post, we'll explore the three main design trends found in Mexican tile patterns, and the different elements that make each one unique.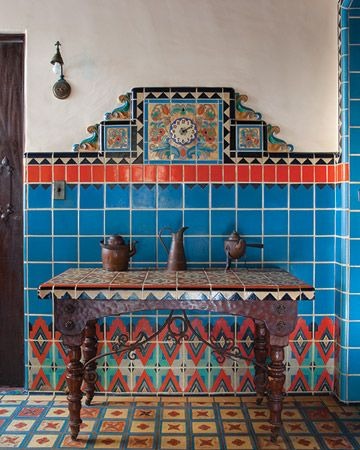 The first trend in Mexican tile design is the classic colonial or Spanish tile. These tiles feature simple, two-color geometrical designs that are inspired by the traditional architecture of colonial Spain. The clean lines and simple shapes of these tiles make them a versatile choice for any design project, whether it's a traditional Spanish-style home or a contemporary space. The second trend in Mexican tile patterns is multicolor tiles. These tiles feature various backgrounds and intricate artwork, often with an antique white background that gives them a creamy, vintage feel. The use of multiple colors, including reds, browns, blues, yellows, oranges, greens, and terra cotta, adds depth and complexity to the tiles, making them a great choice for spaces that require a little more visual interest. Many interior designers use our hand-painted Talavera tiles and high relief tiles in various colors to add colorful and cheerful accents in dining rooms, kitchens, bathrooms as well as gardens.
Finally, we have the folk art tile designs based on Mexican motifs. These Mexican Talavera tiles feature designs inspired by lizards, geckos, flowers, birds, the sun and moon, eclipses, and desert landscapes. The intricate details and vibrant colors of these tiles make them a perfect choice for adding a touch of Mexican flavor to any space. If you want to bring a piece of Mexico into your home, that would be your best choice. It is also a very popular product for bar and restaurant decorations that are looking to boos a Southern feel. Decorative Talavera tiles are a unique and beautiful product that have been a one of the most important elements of Mexican design for centuries. Whether you prefer the simplicity of classic colonial tiles, the complexity of multicolor tiles, or the vibrant folk art designs, there is a Mexican Talavera tile out there to suit your personal style and design needs. So why not add a touch of Mexican charm to your home today?