Hand-painted Mexican Talavera sinks are made from red Mexican clay, which means that each one is unique. The process of making these bathroom sinks made in Mexico is time-consuming and labor intensive, but the result is well worth the effort. They are ideal for decorating any bathroom and can be customized to fit any size, shape, or color scheme. They are usually made of clay and then painted with a white glaze. This type of sink is not only beautiful but also durable and affordable just like the Talavera tiles. Mexican Talavera tiles are one of the most popular decor items for bathrooms, kitchens, and other home spaces. The designs and colors of the tiles are reminiscent of the traditional crafts made by local artisans. Handmade Talavera sinks make a statement in any bathroom and add a touch of Mexican heritage to your home. They can be used as a stand-alone sink or paired with other Talavera tiles for a complete Southern look that will transform your bathroom into an oasis.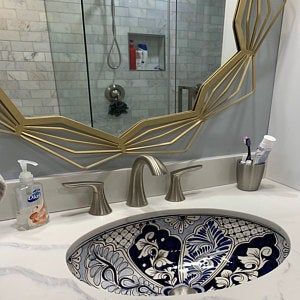 Hand-painted Mexican Talavera sinks are a beautiful way to add a touch of Mexico to your bathroom. This unique design makes these sinks the perfect addition to any room. The Mexican heritage of Talavera tiles goes back to the 16th century. A Spanish priest named Father Miguel de Rueda had the idea of creating a new type of decoration for churches in Mexico, based on Moorish designs. Talavera tiles have been around for centuries, and they were originally made to decorate the floors, walls, ceilings, and fireplaces of buildings. The name "Talavera" is derived from the Arabic word "talaba" which means "to shine". Today, hand-painted Talavera sinks and Mexican mural tiles are still handcrafted by Mexican artisans using traditional methods that have been passed down from generation to generation.
Mexican Talavera sinks are great for many decor layouts in your house, not just bathrooms. They're perfect for kitchens, dining rooms, or even outdoor spaces. If you need some inspiration for where to put your new sink, we've got some ideas here. Talavera is a type of ceramic that is hand-painted with designs and motifs such as birds, flowers, animals, and more. The designs and colors come from the region's history, culture, people, and natural environment. Talavera bathroom sinks are a beautiful way to add heritage and tradition to your bathroom. Our sinks are made with the same patterns as our stunning Mexican tiles, and they're available in a variety of sizes, shapes, and colors. Whether you want to create a bold statement or a more subdued look, we've got you covered.