If you are considering some changes in your bathroom that involves adding texture and colors, you should definitely think about Mexican Talavera tiles. Among the diverse array of options available, Mexican bathroom wall tiles as well as high-relief tiles stand out as a truly captivating choice. These tiles offer a unique blend of rich history, cultural significance, and artistic beauty that can transform any bathroom into a work of art.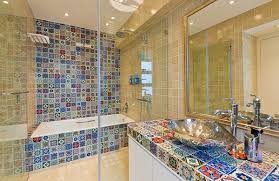 One of the most enchanting aspects of Mexican Talavera wall tiles is their intricate and vibrant designs. These tiles often feature bold colors, intricate patterns, and meticulous detailing that captivate the eye and spark the imagination. From geometric patterns to floral motifs and traditional scenes, each tile tells a story and adds a layer of visual interest to the bathroom space. Mexican bathroom Talavera tiles offer an unparalleled versatility that makes them suitable for a range of interior styles. Whether your design preferences lean towards rustic, bohemian, traditional, or even modern aesthetics, these tiles seamlessly blend in and enhance the ambiance. Their ability to effortlessly combine with various textures and materials ensures that they can fit into any bathroom design concept.
Incorporating hand-painted Mexican tiles into your space allows you to create a stunning focal point. You can choose to tile an entire wall for maximum impact or opt for a more understated approach by using them as accents within a larger tile layout. Regardless of the method, Mexican tiles have the power to instantly draw attention and become the centerpiece of your bathroom. Beyond their visual appeal, Mexican Talavera tiles hold cultural significance that adds depth to your interior design. These tiles are a testament to the artisanal craftsmanship passed down through generations. By integrating Mexican tiles into your bathroom, you pay homage to a rich heritage and contribute to the preservation of a centuries-old tradition. In the world of interior design, it's the unique touches that truly make a space feel extraordinary. Mexican bathroom wall tiles offer an exquisite blend of history, artistry, and versatility that can elevate your bathroom design to new heights. From their intricate designs to their cultural significance, these tiles are more than just decor – they are a testament to the beauty of tradition and creativity. By incorporating Mexican tiles into your bathroom, you not only enhance the aesthetic appeal but also contribute to the continuation of a cherished artistic legacy. So why settle for ordinary when you can have a bathroom adorned with the captivating allure of Mexican tiles?