The Mexican tile backsplash with a decorative design or mural can bring your kitchen to life. It is a popular choice for those who want to give their kitchen a little bit of culture. You can choose from many different styles, colors, shapes, and sizes of tiles that will match your kitchen decor perfectly. There are many different options to choose from solid color tiles, Mexican border tiles, or Mexican murals for the backsplash. A Mexican tile mural can be a great way to add character to your kitchen or bathroom while also adding a splash of color. This type of backsplash is not limited to just kitchens and bathrooms. You can use it in any room if you want to create some extra character, such as an entryway or living room. Mexican Talavera tiles are a great option for decorative kitchen backsplashes.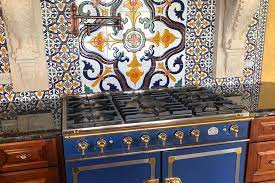 The Mexican tile backsplash is one of the most popular and traditional types of decorative tile backsplashes since it will add color and personality to your kitchen. It has a rustic, earthy feel to it that many people love. If you want an authentic look, then you should consider using tiles with a border around them. Some of the most popular tiles for this are Mexican border tiles. These are made from clay, with a hand-painted design, and then fired in a kiln. The tiles have a variety of colors and textures, which can make the backsplash look unique. Solid color tiles are also popular for this application because they can be used to create geometric patterns or stripes on the wall. Mexican tile murals for backsplash are available in a variety of colors, patterns, and designs, where you can choose from solid color border tiles or Mexican Talavera tiles that feature an intricate design. No matter what you choose, you will be able to find something that fits your style and budget.
Whether you're looking for a colorful accent or a whole-room treatment, Mexican Talavera tiles are a great choice. The best part about adding Mexican tile murals for the backsplash is that they are easy to install and that they will protect your walls in a very effective way. You will only need to make sure that you have enough space between them so that there will be no gaps between each piece of tile when it's time to lay them down over the top of each other. This means that even if you don't have any experience with home improvement projects before this one, then it shouldn't be too difficult for you either. Upgrading your kitchen with our Mexican ceramic products will be effortless.