Mexican border tiles are not just decorative elements that help to achieve finishing projects in the most complicated areas of your home; they are masterpieces that embody the skill, creativity, and cultural heritage of Mexican artisans. With their exceptional detailing, these tiles elevate any space, adding a touch of artistry and charm and achieving captivating craftsmanship with Mexican border tiles. Any Mexican Talavera tiles can serve as a alluring focal point within a room. Whether used as a backsplash in a kitchen or a feature wall in a living area, these tiles draw attention and become a conversation piece. Their unique patterns and vibrant colors create an eye-catching display that instantly transforms an ordinary space into a visually stunning area.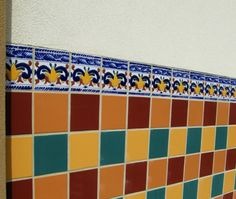 One of the remarkable qualities of Mexican border tiles is their ability to accentuate and highlight architectural features in a space. By incorporating these tiles around archways, door frames, or windows, you can create a striking visual frame that adds character and depth to the overall design. The intricate designs of the border tiles beautifully complement and enhance the existing architectural elements, making them stand out and adding a touch of elegance. Mexican border tiles are not limited to walls; they can also be used to create captivating statement floors. Whether installed in a foyer, hallway, or bathroom, these tiles can instantly transform a plain floor into a work of art. The intricate patterns and bold colors add visual interest, infusing the space with energy and personality. Walking on a floor adorned with border tiles from Mexico becomes an immersive experience, captivating the eye with every step.
As the name suggests, Mexican border tiles are ideal for creating borders and frames within a space. Whether it's a border around a mirror, a frame for the artwork, or a delineation between different areas, these tiles provide a distinctive touch. The borders and frames created with Mexican border tiles serve as artistic accents that define and enhance specific elements within the room, making them visually captivating and aesthetically pleasing. Mexican handmade tiles are not limited to indoor spaces; they can also transform outdoor areas into enchanting oases. Whether used to create a decorative border around a patio or to add visual interest to an outdoor kitchen, these tiles bring a touch of Mexican charm to the outdoors. The vibrant colors of the tiles can complement the natural surroundings, creating a visually captivating space that invites relaxation and enjoyment.