Dining rooms and bedrooms are usually full of wall art. How can we keep this artistic spirit in a kitchen? Is this even possible? If you're looking for a way to make your kitchen truly unique and reflective of your personality, consider commissioning a custom Talavera mural. These handcrafted masterpieces can tell a story, depict your family's heritage, or simply infuse your kitchen with a one-of-a-kind artistic touch. Let's explore the world of Talavera tile murals and explore how they can transform your kitchen into a work of art.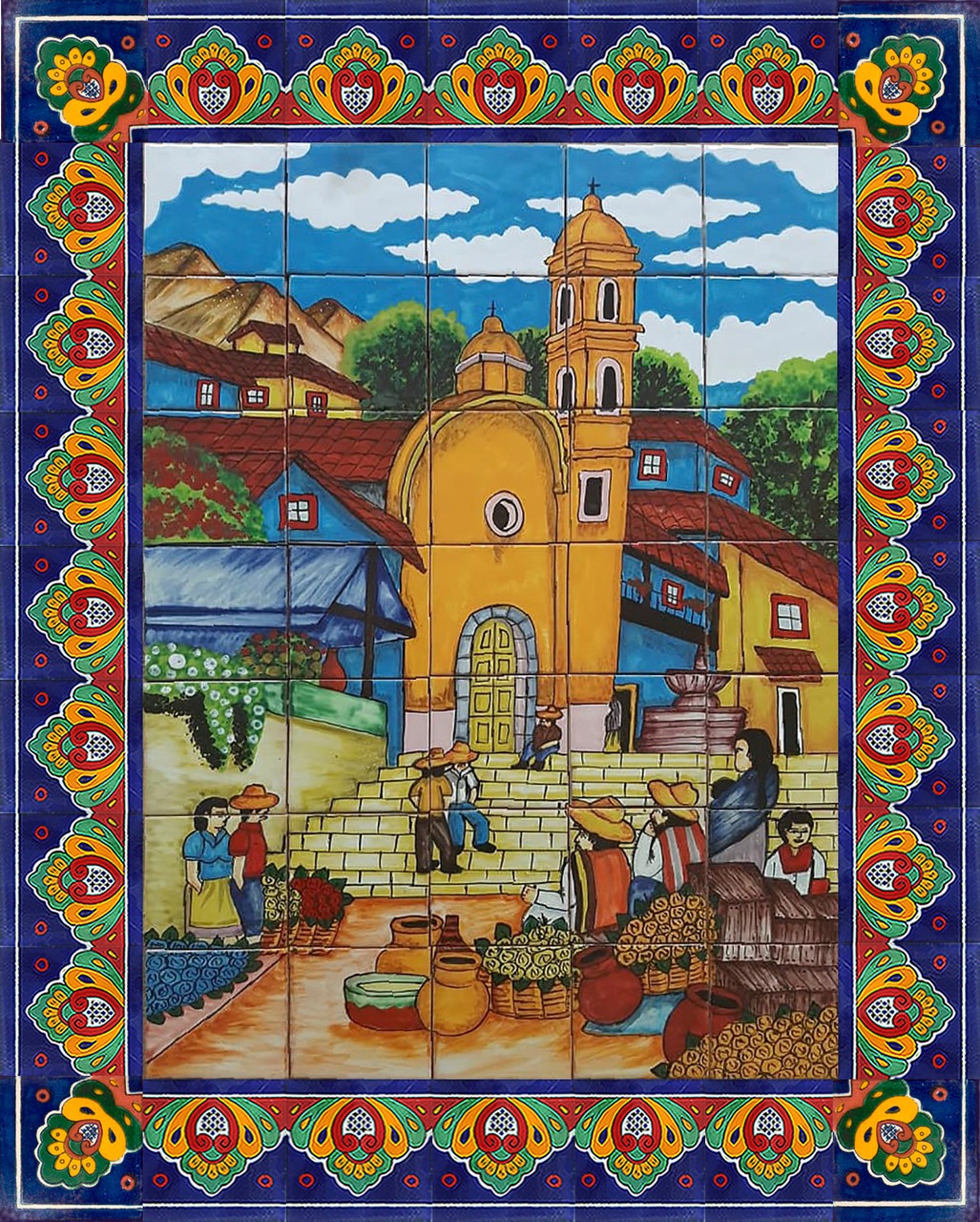 Talavera pottery, with its bright colors and intricate patterns, has a long and storied history in Mexican art and design. For centuries, this art form has adorned homes and public spaces, reflecting the cultural richness and artistic craftsmanship of Mexico. By ordering one of our Mexican Talavera murals for your kitchen, you're not just decorating; you're also connecting with a rich heritage. Your kitchen is a reflection of your style and preferences. A hand-painted Talavera mural allows you to express yourself through a unique piece of art. You can work closely with an artist to create a design that speaks to your individuality, making your kitchen truly one of a kind. Talavera murals can be used to tell stories and create a unique atmosphere around the kitchen backsplash. You do not have to live in Mexico to enjoy its landscapes and beautiful, Colonial cities. In the case of a custom Talavera mural, this one is designed to fit your kitchen's dimensions perfectly. Whether you have a small accent wall or a larger area to cover, the mural can be tailored to your specific needs. This ensures a seamless and harmonious integration into your kitchen's design.
Talavera tiles art is known for its versatility, offering a wide range of colors, patterns, and themes. You can choose from traditional designs, contemporary styles, floral motifs, and more. This versatility allows you to create a mural that suits your kitchen's existing decor or sets the tone for a brand-new look. The presence of custom Mexican tiles can elevate the aesthetic appeal of your kitchen. Depending on the model, it can add a touch of sophistication, charm, and visual intrigue, making our kitchen an inviting space for cooking, dining, and socializing. A kitchen Talavera murals not just a decorative addition to that space; it's a piece of art that tells your story and infuses your living space with cultural richness and personal significance. Whether you're celebrating your heritage, telling a unique story, or simply expressing your individuality, a Talavera mural and Mexican tiles can transform your kitchen into a place of beauty and personal connection. Embrace the art of customization and watch your kitchen come alive with vibrant colors, patterns, and personal meaning.