Hand-painted Talavera tiles and sinks are a traditional craft that has a rich history and cultural significance in Mexico. The ceramic sinks are handcrafted by artisans in the state of Puebla or Guanajuato, Mexico, and feature vibrant colors and intricate patterns that are inspired by traditional Mexican motifs. The history of Talavera products dates to the 16th century when Spanish colonizers introduced the technique of tin-glazed earthenware to Mexico. This technique, combined with the rich cultural heritage of the region, gave birth to the unique and beautiful Talavera pottery that we can enjoy up until now and the significance of Talavera sinks in Mexican culture is incomparable.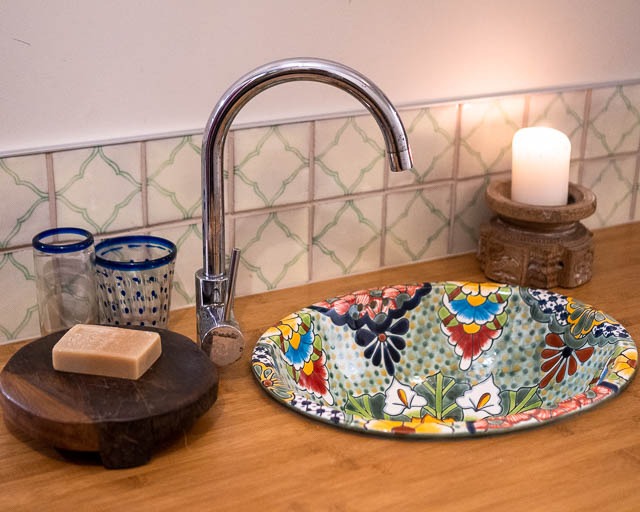 Talavera is often referred to as the "majolica of Mexico" and is considered a type of Mexican folk art. The pottery is made from a type of clay called barro rojo that is found in the region and is fired at high temperatures to make it durable and long-lasting. The pottery is then painted with lead-free glazes and decorated with intricate patterns. The decoration is usually done by hand, and each piece is unique. Every year, we introduce new patterns so it is not only the tradition that you can find on our web page but also modern designs. The use of Talavera in bathroom fixtures is a relatively new development, but it has become increasingly popular in recent years. Talavera sinks are a beautiful and unique addition to any bathroom, and they are particularly well-suited to those with a Mexican-inspired design. With their vibrant colors and intricate patterns, these sinks are sure to add a touch of beauty and character to any space. If you have ever visited Mexico, you surely could observe the significance of Talavera sinks in Mexican culture as one can find them in so many public spaces as well as private haciendas.
In addition to their aesthetic appeal, decorative Talavera sinks also have cultural significance in Mexico. The production of Talavera pottery is deeply rooted in the history and traditions of Puebla, and it has become an important part of the region's identity. In fact, the production of Talavera pottery in Puebla has been recognized as an Intangible Cultural Heritage by UNESCO. Owning an authentic Talavera sink and Talavera tiles is a way to celebrate and honor Mexican culture and heritage. It also supports the local artisans who continue to create these beautiful pieces using traditional techniques. By incorporating Talavera sinks into their homes, individuals can also share the beauty and richness of Mexican culture with others.