By adding singular kitchen tile murals into the decor, you can transform your kitchen into a unique and welcoming space that reflects your personality and taste. Buying some ceramic tiles with an uncomplicated pattern from your local store is a different experience from the one you can create with hand-made and even customized Mexican tile murals. You are not only purchasing a durable and high-quality product but what is more important, our kitchen tile murals resemble authentic pieces of work of art, just like paintings. Our artisans want to convey their love for Mexico and also the Talavera tiles heritage rooted in Mexican culture. Additionally, take into account that our decorative murals are not only used in kitchens but also in other rooms such as bathrooms and living rooms or gardens and patios which allows you to embrace the Southern style to its fullest.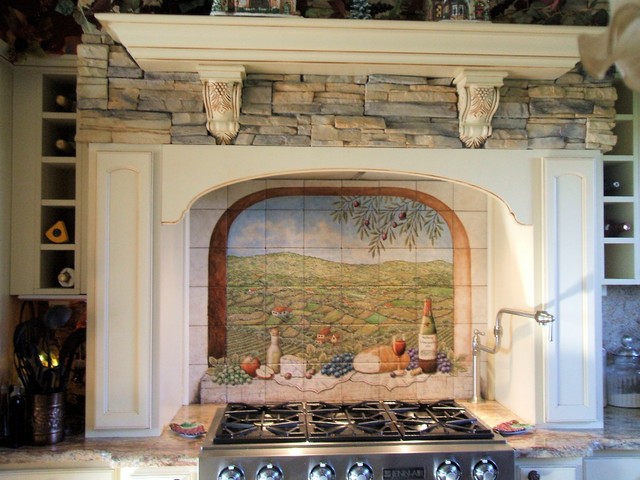 When shopping at mexicantilestore, you can choose from a variety of designs and colors to find the perfect kitchen tile murals that enliven even the most ordinary and dull kitchen. Murals are a great way to decorate your home with a personal touch. The idea of big-size murals comes from the decoration of grandiose halls and public spaces. The murals have become extremely popular in the XX century and today we can still enjoy iconic murals in the most emblematic landmarks of Mexico. After that, the hand-painted tile murals have entered private households' decor where they provide a unique opportunity to make your kitchen or living room feel like home. You can find many different types of handmade tile murals online, but when it comes to Mexican theme designs, you will find that they are unparalleled in terms of beauty and quality. Singular kitchen tile murals are a great way to add color, life, and personality to your kitchen. The best thing about them is that they are not only decorative but also functional. You can choose from a variety of styles and themes to match your kitchen décor and personality. Handmade tile murals are made with ceramic tile squares and only when installed together you can appreciate the scene they present, similar to a puzzle. Moreover, you can additionally spice up your room by combining tile murals with solid color Talavera tiles or Mexican border and trim tiles for a finishing touch.
Mexican tile murals work very well in any space, regardless of their size. A kitchen is one of the most important spaces in your home. It is where you spend most of your time, cooking, eating, and relaxing with family and friends. And while it can be difficult to make a small space feel spacious and welcoming, there are many ways to make this happen. One of the easiest ways to do this is by installing tile murals on the walls. They not only make the room look more spacious but also add color and style to it. They can also be found in the exteriors. Match a beautifully crafted tile mural with high relief tiles in your garden or patio and you will be the envy of your neighborhood. Another idea to add a Southern feel is to choose a ceramic Talavera sink for your kitchen and decorate your kitchen backsplash with one of our kitchen tile murals. It will add an amazingly rustic but also vibrant and fun ambiance.