If you've ever been enchanted by the vibrant and lively aesthetics of Mexican culture, you might consider infusing your bathroom with some Mexican flair. Who would not like to be wakening up with cheerful and bright patterns of Southern style? From oval Talavera sinks to colorful Talavera tiles, there are various ways to bring a touch of Mexico into your bathroom decor. In this blog post, we will explore some fantastic ideas on how to add a Mexican style to bathroom.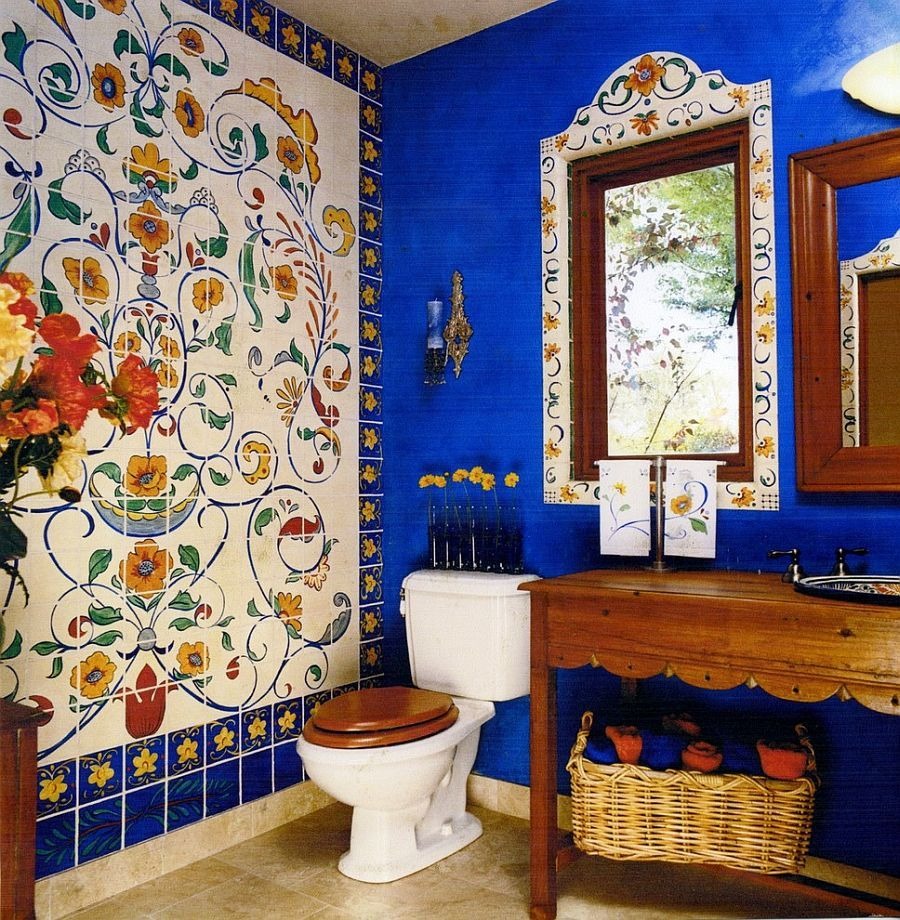 Talavera tiles are the cornerstone of Mexican interior design. They are famous for their hand-painted patterns, vivid colors, and intricate details. To incorporate these beautiful tiles into your bathroom, you can for instance cover the bathroom walls with hand-painted Talavera tiles, creating an eye-catching backdrop. Consider combining them with high-relief tiles to add texture and depth. For the floor, opt for terracotta tiles. They add warmth and authenticity to the space, reminiscent of Mexican haciendas and their neutral, earthly color cools down the vibrant tones of the tiles. Additionally, sinks are not merely functional; they can also be a statement piece in your bathroom. To achieve a Mexican style, consider replacing the standard sink with an oval Talavera sink. These hand-painted sinks come in various designs, allowing you to choose one that resonates with your style. On the other hand, you have vessel sinks, particularly those made from colorful ceramic, which are a popular choice in Mexican-inspired bathrooms. Their unique shape and patterns make them a focal point.
Extend the Mexican theme to your sink vanity by using narrower Talavera tiles such as Mexican border tiles. These tiles can be used as a backsplash or to decorate the entire vanity area. The result is a cohesive and visually striking design. As smaller accents, consider framing your bathroom mirror with decorative Talavera tiles to tie in the theme. Hang Mexican artwork or prints on your bathroom walls to add character and cultural depth. Use Mexican pottery and textiles for functional and decorative purposes, such as soap dishes, towels, and curtain accents. Mexican interiors often incorporate natural elements, like succulent plants and rustic wood. Bring these elements into your bathroom through potted plants, wooden shelving, or even a driftwood-framed mirror. Adding Mexican style to your bathroom is a fantastic way to infuse color, culture, and character into your home. From the eye-catching patterns of Talavera tiles to the warmth of terracotta flooring, every element can play a role in creating a vibrant and inviting space.